… Who's The Fairest Of The Goodreads.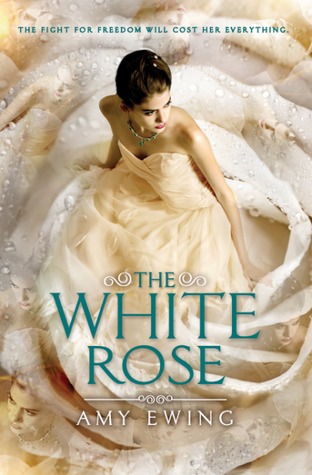 Adoro o efeito do vestido que se torna numa rosa. O tipo de letra também está de acordo e tudo nos indica um romance histórico YA maravilhoso (principalmente pela classificação). Este é o segundo volume da saga The Lone City. A primeira capa já não me atraiu tanto porque a transição vestido-jóia já não está tão bem feita e apesar de na capa de The White Rose ter caras, na do primeiro volume pareceram-me mais arrepiantes.
Goodreads
Violet is on the run. After the Duchess of the Lake catches Violet with Ash, the hired companion at the Palace of the Lake, Violet has no choice but to escape the Jewel or face certain death. So along with Ash and her best friend, Raven, Violet runs away from her unbearable life of servitude.
But no one said leaving the Jewel would be easy. As they make their way through the circles of the Lone City, Regimentals track their every move, and the trio barely manages to make it out unscathed and into the safe haven they were promised—a mysterious house in the Farm.
But there's a rebellion brewing, and Violet has found herself in the middle of it. Alongside a new ally, Violet discovers her Auguries are much more powerful than she ever imagined. But is she strong enough to rise up against the Jewel and everything she has ever known?